PRESSED HOPS
Hops from farmers are lightly pressed into farmers bales of about 65 kg and 10 - 11 % moisture, delivered to the processing plant with stem and leaf etc. separated, properly dried and pressed into the requsted shape in synthetic fabric. The weight of individual ballots is 100 - 175 kg.
PELLETS TYPE 90
Each lot of hops is analyzed for humidity and alpha contents, then put into the production line, where there are cleaned by magnets and by a stream of air, homogenized, dried up to the desired humidity,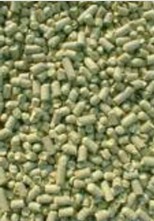 milled into powder, homogenized again and pelletized. During this process the temperature is never higher than 58° C and after the granulation pellets are immediately cooled to 20° C - 24° C. The temperature levels are continuously checked at several spots in the pelletizing process. Pellets are then put in 5-20 kg allubags, flushed with inert gas, either with pure Nitrogen (N2) or oxide carbonate (CO2) or with the mixture of both, then put into cartons, cartons on pallets. Bulk pack bags of 90 - 150 kg, are also available flushed with inert gas (either pure Nitrogen (N2) or oxide carbonate (C02)).
For bag packing the pallets 110 x 73 cm are used - optimal quantity loading into 20 feet container. For bulk sized packing pallets 120 x 80 cm are used.
The advantages of pellets are in transport cost, storage space, homogenity and easier dosage in brewing process.